Sie sind hier:
Avalanche Warning Bulletin - Wednesday, 29.3.2017, 7:30
Favourable morning conditions, low danger. Rising daytime danger, wet-snow avalanches.
Regional danger levels (Morning)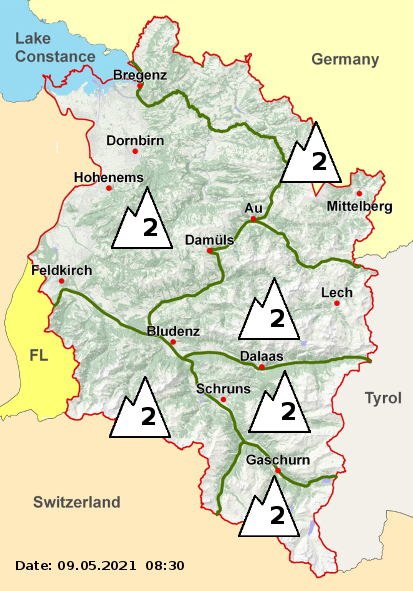 Forecast afternoon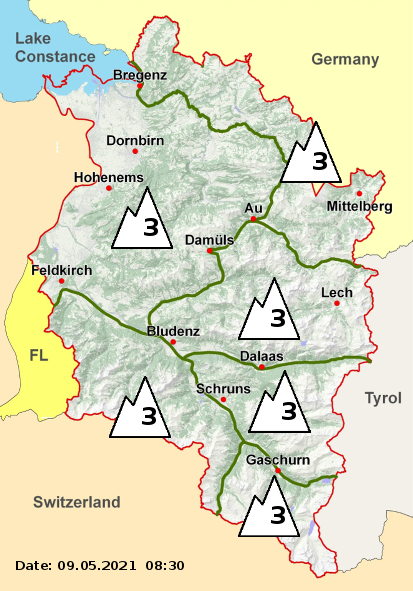 Special Warnings
older snowdrifts in steep terrain; at low altitude on steep, sunny slopes increasing wet-snow and gliding avalanches
Review
25.03.2017-29.03.2017
Avalanche danger assessment
Low danger in the morning with favourable conditions. Avalanche prone locations for dry-snow avalanches are found especially in extremely steep terrain on north-facing slopes. Small avalanches can be triggered mostly by large additional loading, e.g. a group not maintaining distances. Attention: the danger of being swept along is greater than that of being buried. Isolated avalanches are possible on shady slopes when the old snowpack fractures, and such releases can grow to dangerously large size. Caution: cornices are beoming instable, can break! At low altitude the snowpack has become thoroughly wet from the rainfall. Particularly on steep, sunny slopes, wet-snow and (on grass-covered slopes) also gliding avalanches are possible.
Snow cover / General info
Recent weather conditions have helped to stabilise the snowpack, most slopes are well consolidated and, during the morning, stable. However, the snowpack is thoroughly wet to over 2000m and loses its firmness during the daytime. Following nights of clear skies the snowpack generally has a crust capable of bearing loads up to high altitudes. Particularly in high alpine regions on north-facing slopes there is still powder snow to be found. Small, older drifts are still prone to triggering. On steep shady W-N-NE facing slopes, the fundament is still weakened by instable layers.
Alpine weather forecast (ZAMG-Weather Service Innsbruck)
Visibility may be impeded by cloudbanks in early morning, but the clouds will disperse. At 2000m: +2 degrees. Generally light NW winds, brisker at high altitude.
Outlook
Following mostly clear nights, predominantly favourable conditions on Thursday and Friday morning. The danger of wet-snow avalanches will then rise over the course of the day, this should be taken into consideration when planning backcountry tours.
Andreas Pecl
Translated from the German by Jeffrey McCabe
---
Infobox
This bulletin describes the overall situation. Please heed additional recommendations of local avalanche commissions or security services.

Danger levels
1 = low, 2 = moderate, 3 = considerable, 4 = high, 5 = very high Avalanche hazard levels

Address
Landhaus, A-6901 Bregenz
E-Mail: lawinenwarndienst@lwz-vorarlberg.at
Tel. +43(0)5574/511- DW 21126, Fax +43(0)5574/511-21197

---