Sie sind hier:
Avalanche Warning Bulletin - Monday, 23.1.2017, 7:30
Danger generally low or moderate, sometimes considerable on high altitude shady slopes
Regional danger levels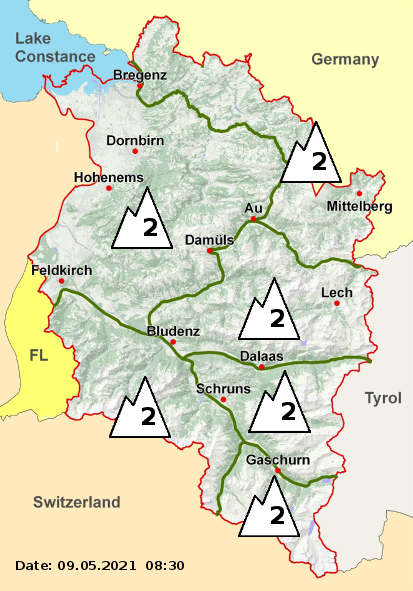 Avalanche prone locations predominant (black)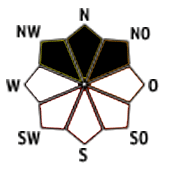 Typical danger situation
(problem)
| | |
| --- | --- |
| Old snow | Drifting snow |
Special warnings
above 2200 m; shady slopes, weak layers in snowpack, above 1800m fresh and older drifts near ridgelines; steep, wind-loaded terrain. Gliding snow at lower altitudes
Review
19.01.2017-23.01.2017
Avalanche danger assessment
For the most part avalanche danger is low or moderate; on some shady, steep high-altitude slopes it is considerable. Due to the unfavourable snow layering (old-snow problem) fractures can break down to deeply embedded layers in some places, primarily on shady, steep slopes above 2200m. Shooting cracks and settling noises (whumpf!) are indicators of imminent danger. Slab avalanches can be triggered even by the weight of one sole skier and grow to dangerously large size. Experience is demanded to be able to assess the avalanche dangers on-site, as well as defensive conduct. Other avalanche prone locations occur in the form of freshly-formed and older snowdrift accumulations, deposited primarily on wind-impacted steep slopes near ridgelines and in transitions into drifted gullies and bowls. Slab avalanches can release there mostly by large additional loading, e.g. when a group of skiers does not maintain distances. At lower altitudes, small gliding avalanches are possible in isolated cases on steep, grass-covered slopes. Avoid spots below glide cracks.
Snow cover / General info
The snowpack has settled further down to intermediate altitudes, and on sunny slopes has consolidated increasingly. With intermittently moderate-to-strong southerly winds, fresh snowdrifts accumulated in pass areas and near ridgelines. These, and also older drifts, are prone to triggering. On steep, sunny slopes there is often a breakable crust; on shady slopes and on flatter slopes the uppermost layers are generally well settled, still powdery and covered with surface hoar. The snow from early November which on shady slopes remained intact, is now faceted, riddled with crusts, forming a weak fundament.
Alpine weather forecast (ZAMG-Weather Service Innsbruck)
Lots of sunshine, only a few wisps of cloud above summit level, terrific visibility, relatively mild. Temperature at 2000m: -2 to 0 degrees. Light NW/NE winds.
Outlook
Tuesday will bring a few cloudbanks and temperatures will drop noticeably. The following days will be relatively sunny and relatively mild in the mountains. Avalanche danger is not expected to change significantly. Apart from the old-snow problem in high-altitude, shady, steep terrain, favourable backcountry touring conditions prevail.
Andreas Pecl
Translated from the German by Jeffrey McCabe
---
Infobox
This bulletin describes the overall situation. Please heed additional recommendations of local avalanche commissions or security services.

Danger levels
1 = low, 2 = moderate, 3 = considerable, 4 = high, 5 = very high Avalanche hazard levels

Address
Landhaus, A-6901 Bregenz
E-Mail: lawinenwarndienst@lwz-vorarlberg.at
Tel. +43(0)5574/511- DW 21126, Fax +43(0)5574/511-21197

---