Sie sind hier:
Avalanche Bulletin - Saturday, 19.1.2019, 7:30
Fresh snowdrift accumulations in high ridgeline and pass areas are trigger-sensitive
Regional danger levels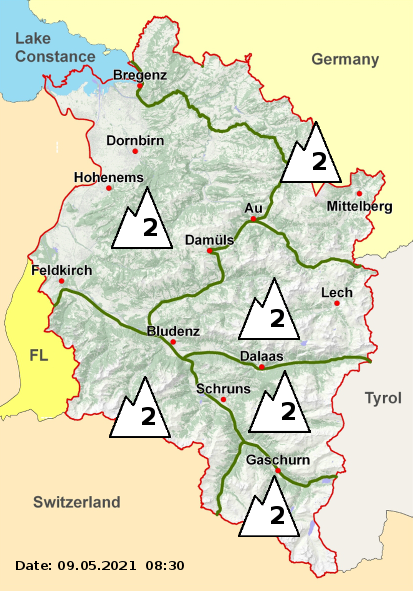 Avalanche danger assessment
Considerable avalanche danger prevails widespread at high altitude. Fresh, mostly small snowdrift accumulations occur primarily above 2000 m in ridgeline and pass areas, and in wind-loded gullies and bowls. Frequency and spread of the danger zones increase with ascending altitude. Particularly on shady slopes, the deep fresh snowpack from the beginning of the week is still prone to triggering. On steep, sunny slopes which have not yet released, naturally triggered loose-snow and slab avalanches possible. If avalanches fracture down to deeper layers, they can grow to large size and endanger exposed roads and buildings. Activities in outlying terrain away from secured and marked ski runs demand experience in assessing avalanche dangers on-site. The inexperienced should remain on the pistes. On sunny slopes below about 2400 m, especially at lower altitudes where there was rain impact, medium-to-large glide-snow avalanches possible on very steep grassy slopes, hillsides. Avoid all areas where glide cracks are visible.
Snow cover / General info
Yesterday started out with residual clouds, but the sun rapidly took over. Light to moderate northerly winds prevailed, intensifying in the evening to strong, in places very strong, from the southwest, forming new snowdrift accumulatons. The old snowpack has settled well, is often compact. On shady slopes where there was little wind, the uppermost layers are generally still soft and powdery. At low and intermediate altitudes, the snowpack is moist, enhancing gliding snow. Yesterday, naturally triggered avalanches were still being observed, but they are less frequent.
Alpine weather forecast (ZAMG-Weather Service Innsbruck)
Compact cloud cover above the peaks will create diffuse light, but they will swiftly disperse and the sun will come out. Not as cold as in recent days. At 2000 m: -10 degrees. Light to moderate westerly winds at high altitudes.
Outlook
On Sunday, predominantly overcast, not much sunshine. On Monday, heavily overcast, light snowfall cannot be ruled out. The avalanche danger will incrementally diminish.
Bernhard Anwander
Translated from the German by Jeffrey McCabe
---
Infobox
This bulletin describes the overall situation. Please heed additional recommendations of local avalanche commissions or security services.

Danger levels
1 = low, 2 = moderate, 3 = considerable, 4 = high, 5 = very high Avalanche hazard levels

Address
Landhaus, A-6901 Bregenz
E-Mail: lawinenwarndienst@lwz-vorarlberg.at
Tel. +43(0)5574/511- DW 21126, Fax +43(0)5574/511-21197

---