Sie sind hier:
Avalanche Bulletin - Saturday, 24.3.2018, 7:30
Mostly moderate danger. Beware small, fresh drifts and daytime danger cycle.
Regional danger levels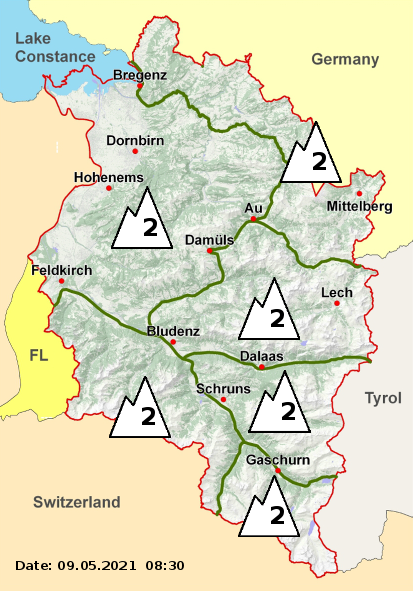 Avalanche danger assessment
Avalanche danger is predominantly moderate. The main peril for freeriders and backcountry skiers stems from freshly formed and older snowdrift accumulations, now often blanketed by fresher snow. Avalanche prone locations are found primarily above 1800 m, in ridgeline terrain, on drifted slopes and in extremely steep terrain. Slab avalanches can be triggered there even by large minimum loading, primarily by large additional loading, particularly on extremely steep slopes or in transition zones from shallow to deep snow. Danger zones increase with ascending altitude and as the day unfolds in foehn-exposed regions in particular. As a result of solar radiation and daytime warmth, the uppermost layers of the snowpack are weakened, particularly on steep, sunny slopes. Naturally triggered gliding avalanches are possible on steep grassy slopes, possibly reaching medium size.
Snow cover / General info
Friday was mostly gray with some minor snow showers from place to place. During the afternoon there was some sunshine. Fresh snow and snowdrifts from recent days have been deposited atop a generally compact, well consolidated snowpack surface. On shady slopes and wherever radiation is flat, the uppermost layers of the snowpack are usually powdery. On sunny slopes and at lower altitudes there is often a melt-freeze crust capable of bearing loads. The E/NE winds were moderate to strong, particularly in northern regions and near the Arlberg and eastern Verwall, whereas the foehn was noticeably in the Rätikon. Thus, new drifts accumulated. Bonding to the snow base beneath them is inadequate, even worse in high alpine regions. Up to intermediate altitudes the snowpack layering is moist down to deeper levels, which enhances the natural triggering of gliding avalanches across smooth ground. Numerous gliding avalanches were observed yesterday during the day, as well as during the night.
Alpine weather forecast (ZAMG-Weather Service Innsbruck)
Cloudless skies. Temperature at 2000 m: -5 to -1 degree. Generally light winds, moderate-velocity foehn wind in the classic foehn lanes.
Outlook
Sunday will be predominantly sunny. Rising temperatures and solar radiation will subject the snow to a daytime danger cycle. Monday will be variably cloudy.
Andreas Pecl
Translated by Jeffrey McCabe
---
Infobox
This bulletin describes the overall situation. Please heed additional recommendations of local avalanche commissions or security services.

Danger levels
1 = low, 2 = moderate, 3 = considerable, 4 = high, 5 = very high Avalanche hazard levels

Address
Landhaus, A-6901 Bregenz
E-Mail: lawinenwarndienst@lwz-vorarlberg.at
Tel. +43(0)5574/511- DW 21126, Fax +43(0)5574/511-21197

---