Sie sind hier:
Avalanche Warning Bulletin - Saturday, 25.2.2017, 7:30
Danger still considerable at high altitude, due to snowdrifts
Regional danger levels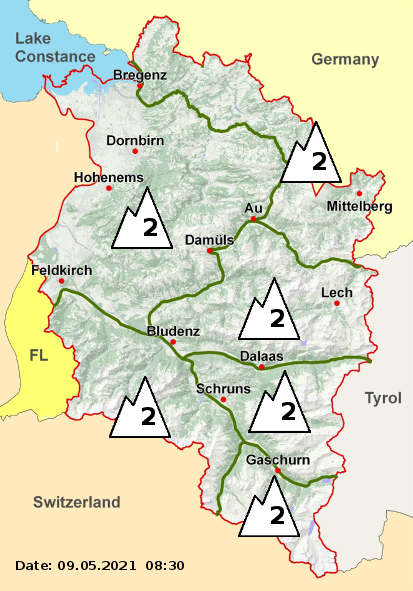 Avalanche prone locations predominant (black)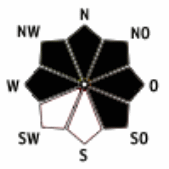 Typical danger situation
(problem)
| | |
| --- | --- |
| Drifting snow | Old snow |
Special warnings
drifts above 2000m; weak layers on very steep, shady slopes; small slides in steep, rocky terrain; at low altitude, wet-snow and gliding avalanches
Review
21.02.2017-25.02.2017
Avalanche danger assessment
Above 2000m considerable avalanche danger prevails. Slab-avalanche prone locations are found in all aspects, behind protruberances, in gullies and bowls which are wind-loaded. The fresh snowdrift accumulations are prone to triggering, can be released even by the weight of one skier. Activities in outlying terrain require experience in assessing the dangers on-site. In very steep, shady W-N-NE terrain above 2200m the snowpack is poorly layered (old-snow problem), especially in untracked terrain. Particularly in transitions from shallow to deeper snow avalanches can still be triggered. Solar radiation can cause small naturally triggered avalanches in rocky terrain.
Snow cover / General info
On Thursday night strong westerly winds transported the new fallen snow together with the loose old snow. In the afternoon on Friday, winds eased to light from the northwest, later slackening off still further. Last night there was 15-25 cm of new snow registered in northern regions, 10-20 in southern regions. Particularly in ridgeline terrain and behind terrain edges new snowdrifts accumulated. Older drifts were blanketed over, making them difficult to recognize. On shady slopes the drifts were often deposited atop loose, powdery layers, in many places on top of wind-hardened crusts, making them prone to triggering at high altitudes. On high altitude, very steep, shady slopes (W-N-NE) the fundament is still weak, and still very difficult to evaluate on-site. As a result of the lower temperatures, the snowpack below 2000m can stabilise somewhat.
Alpine weather forecast (ZAMG-Weather Service Innsbruck)
Good weather conditions for winter sports: fog and residual cloud will swiftly disperse, it will become sunny with sparse clouds, noticeably milder. Temperature at 2000m: -9 to0 degrees. Moderate N/NW winds.
Outlook
Sunday will be overcast, with a very small amount of snowfall. Monday will bring a SW foehn air current, sunshine, springtime temperatures. Avalanche danger will diminish.
Bernhard Anwander
Translated from the German by Jeffrey McCabe
---
Infobox
This bulletin describes the overall situation. Please heed additional recommendations of local avalanche commissions or security services.

Danger levels
1 = low, 2 = moderate, 3 = considerable, 4 = high, 5 = very high Avalanche hazard levels

Address
Landhaus, A-6901 Bregenz
E-Mail: lawinenwarndienst@lwz-vorarlberg.at
Tel. +43(0)5574/511- DW 21126, Fax +43(0)5574/511-21197

---